The Chancellor's Scholarship is TCU's most-prestigious scholarship, covering full tuition over eight semesters. However, it's much more than that. The Chancellor's Scholarship is also a program that invites TCU's top scholars to grow and develop as scholars, leaders, and citizens in the global community.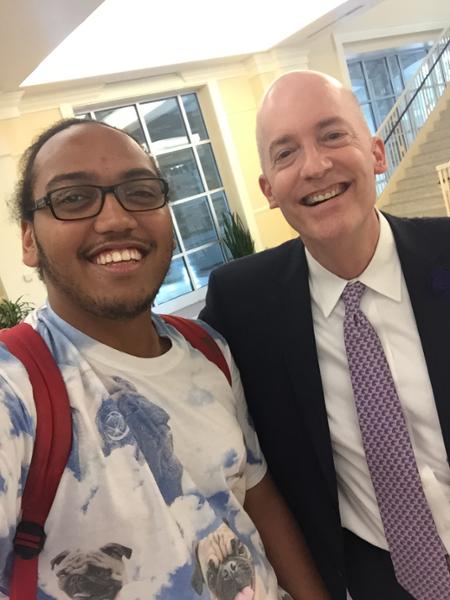 Ultimately, roughly 50 of our 20,000 applicants will enroll as Chancellor's Scholars each fall. These students hail from 21 different states and represent each degree-granting college on campus. On average, Chancellor's Scholars graduate in the top 2% of their graduating class, with a 3.97 unweighted GPA in a strong curriculum. Our average scores for Chancellor's Scholars hover around a 33-34 on the ACT and a 1500 on the SAT. Additionally, these students have stellar resumes, exhibiting exemplary leadership and service.
Each year, about 120 applicants are named Chancellor's Scholarship finalists. These finalists are invited to campus for a weekend in February where they learn more about the Honors College experience, celebrate their achievements to date, and interview for the Scholarship. We also award Transfer Chancellor's Scholarships to four incoming transfer students each year. These students are immediately integrated into the program and attend all of the same events and are in the same groups as the freshman scholarship recipients.
Once on campus, the Chancellor's Scholars learn and grow together in a community. During their first semester, students attend a leadership retreat together. This begins a four-year process that pushes students to maximize their potential and create opportunities for future leadership. Other events for the scholars include a year-end luncheon, international experiences, and a dining etiquette and interview skills dinner.
The Chancellor's Scholarship is a prestigious scholarship that rewards students for excellence in their high school careers. More importantly, however, it's a program designed to help students get the most out of their college experience and sets them up to lead on after graduation. While honoring the past, the program seeks to propel students into the future.
For more information, feel free to check out the Chancellor's Scholars website here.
Dalton Goodier is a Senior Admission Counselor in TCU's Office of Admission. His favorite Christmas present was banana bread from his Aunt Lisa.