There are plenty of "unusual" and "weirdest" college mascot lists out there. On most of them, you'll find some of our unique counterparts – the UC Irvine Anteaters, Delta State Fighting Okra, SLU Billikens, Evergreen State Geoducks, and UC Santa Cruz Banana Slugs are just some of my personal favorites.
We are, of course, the only college out there with the mighty Horned Frog as its mascot. If you're new to TCU or the great state of Texas, you might be asking, "what the heck is a horned frog and how did it become the mascot?"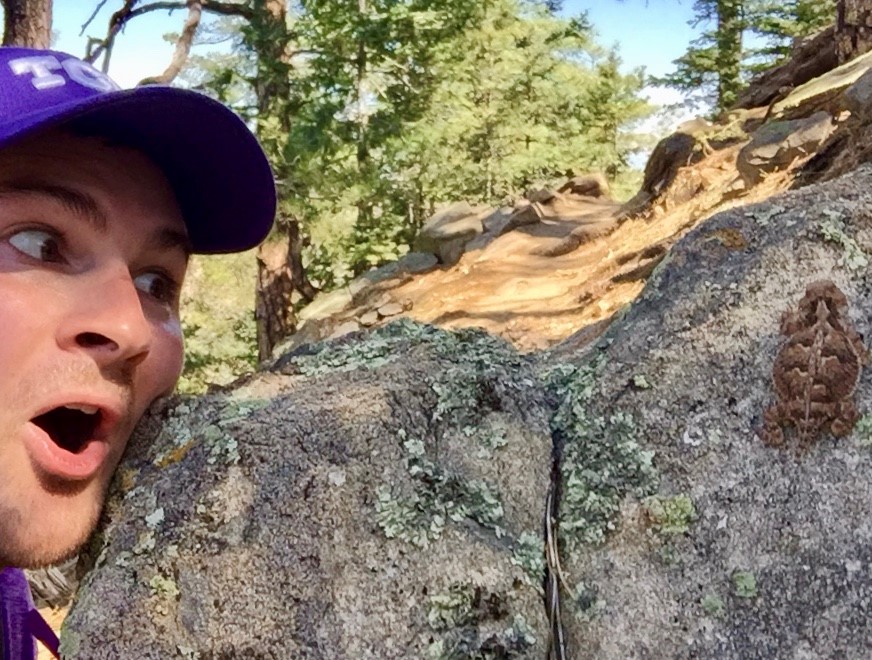 David poses with a Horned Frog during a trip to Santa Fe.
The Texas horned lizard (Phrynosoma cornutum) is the largest of the 15 species of horned lizards found in the United States. Commonly referred to as a horned toad or horned frog, their nickname comes from their round body, short snout, and pronounced stance that make them look more like a frog or toad. Horned lizards can be found all over the western United States, but Texas horned lizards are mostly found in their namesake of Texas and the surrounding states and northern Mexico. I've seen them around San Angelo State Park in West Texas and I ran into this particular horned lizard hiking just outside of Santa Fe, NM.
Much like head coach Gary Patterson and our Horned Frogs football team, the Texas horned lizard is defensive-minded. They rely first on camouflage and can be very difficult to see in the wild. When threatened, they puff out their body to appear larger. With their sharp, intimidating horns (which are actually made from true bone), they can be very difficult for predators to eat.
However, their most famous and well-known defense is the fact that the horned lizard can shoot blood up to five feet out of its eyes! That's right – they increased the blood pressure in the vessels around its eyelid, which then erupt. Not only is that terrifying for anyone to see, but it also contains a foul-tasting chemical that wards off predators.
There's no reason to be scared if you see one in the wild, though. Much like our admissions staff, horned frogs are happy to enjoy a nice meal while baking all day in the hot Texas sun. While we never recommend messing with them in the wild (and it is illegal in Texas to own, transport, or remove one from its habitat without a special license), they are generally docile and non-threatening.
The Comeback of the Horned Frog
Unfortunately, the range and population of this special lizard has declined significantly. Older Texas natives are happy to tell you about the days when you would find them all over, but the introduction of fire ants and the widespread use of pesticides has depleted their main food source, the harvester ant. The species has been on the endangered species list since 1977.
Luckily, TCU's College of Science and Engineering is collaborating with our friends at Texas A&M, the Texas Parks and Wildlife Department, and the San Antonio Zoo to research and create a "lizard factory" to reintroduce harvester ants and horned frogs back into parts of central Texas. Similar breeding programs have since been introduced at the Dallas Zoo and right down University Dr. at our very own Fort Worth Zoo (recently ranked the No. 4 zoo in the nation by USA Today – you can find the horned frogs in the Texas Wild! Exhibit). It's just one way the Horned Frogs on our campus are helping out those who need it the most.
By the way, Horned Frogs are used to comebacks. In 2015, TCU baseball overcame an 8-1 deficit in the 8th inning to beat North Carolina State in the Fort Worth Regional. They would eventually go on to the College World Series. Months later in the 2016 Alamo Bowl, down 31-0 at halftime to Oregon, TCU pulled off a miracle in defeating the Ducks in 3OT. It tied the record for the biggest comeback in bowl history.
How Did TCU Become the Horned Frogs?
The answer goes way back to 1897, when the yearbook staff of the then-named AddRan Christian University was looking to name its annual. Football began at the university the year before, and legend has it that the football field was covered in the small-but-mighty horned lizards. It seemed a perfect match. We certainly prefer it to the alternative. Legend also has it that the second-place choice for a mascot was another staple of Central Texas – the cactus. Although the first few editions were lost, the TCU library still has editions of The Horned Frog Yearbook dating back to 1905.
David is a 2012 graduate of TCU and currently serves as the Associate Director of Freshman Admission. In 2010, he hit a hole-in-one in Wii Golf when he probably should've been studying instead.