Main Content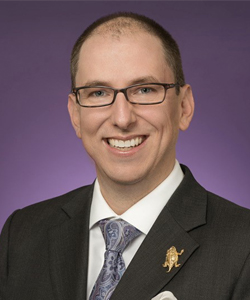 Heath Einstein
Dean of Admission
Hometown: Fountain Valley, CA
Alma Mater: The George Washington University (BA) and Georgetown University (MPP)
Year I joined TCU Admission: 2012
Areas I recruit: The states of Alaska and Hawaii, as well as a handful of schools in Fort Worth, TX.
I think TCU is a great university because: No other medium-sized university combines residential campus living in a major US city, highly-ranked Division I athletics, with a focus almost exclusively centered on the undergraduate experience. Moreover, having visited over 200 colleges and universities across the world, I cannot think of a school whose students feel the sense of family that exists here.
Favorite class in college: Presidential Politics
Hobbies and interests: Sports (as a lifelong Lakers fan I've bled purple since well before I came to TCU), music, literature (anything written by John Irving), and social justice.
If you visited me in my office, you'd see: Pictures of my family and books that shape my philosophy on education.
My advice to you: Figuring out where to go to college is a process of self-discovery. Despite the external pressures you might face, keep in mind that first and foremost your goals must be met. To that end, carefully consider the ways in which each college you investigate is distinguished from the rest, and how they jibe with your objectives for college.