This post was written by our friends over in Student Activities. If you're interested in learning more, you can email the office at studentactivities@tcu.edu. You can find theEnd on Instagram as well.
Moving away to college can be intimidating. You're in a new city with new people and it doesn't yet feel like home. You don't have your pet or your favorite comfort food and most of all you may be missing your best friends. That's why Student Activities exists. We are here to help you get connected and make TCU your home away from home. Student Activities always has an event or activity to connect you to the Horned Frog Family. All of our events are student-run and student-planned. So even if attending an event isn't your thing, come volunteer and join our team as we sponsor some of the biggest events TCU has to offer.
We are already working on a great event line-up for the 2019-2020 school year. We can't wait to see you at these TCU traditions and more great events:
Family Dinner:
Family Dinner is a way of welcoming the incoming first year class as only TCU can do. Each year, faculty, staff and alumni across Fort Worth open their homes and host a family-style dinner with a small group of new students. This dinner is a memorable night for hosts and students alike as we connect generations of Horned Frogs to one another.
Tree Lighting:
The annual Christmas Tree Lighting ceremony marks the start of the holiday season at TCU. Each winter, the Campus Commons is filled with holiday cheer as we all countdown to the lighting of the 40-foot tree while enjoying a multitude of activities and the singing of holiday favorites. In true TCU form, the Tree Lighting features plenty of food, music, and tons of fireworks. Literally.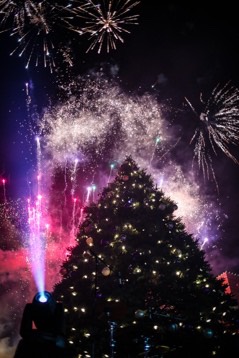 theCrew:
If big crowds aren't your thing, then theCrew's weekly schedule may be right for you. theCrew plans free events for students throughout the week designed to help students connect with one another…and to take a break from studying. theCrew also has student volunteer positions available for photographers, graphic designers, aspiring event planners, and student that just plain love TCU. Getting involved in theCrew as a volunteer is a great way to learn about your leadership abilities and positively impact the campus through event planning.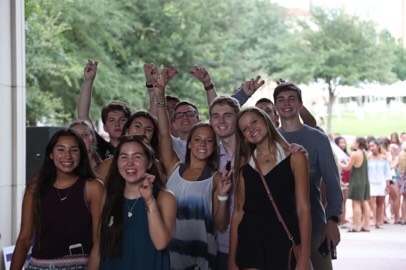 theEnd:
theEnd is a TCU's late-night, weekend programming organization. theEnd plans free events on Friday and Saturday nights so that students have a fun, safe, and memorable weekend experience at TCU. On any given weekend, you'll typically find a screen of a pre-released movie, a concert, such as Dan + Shay, a comedian such as Ken Jeong, or even a Q&A with celebrities like the cast of Queer Eye. You won't find entertainment like this every weekend on any other college campus! Like theCrew, theEnd is a student organization and is always looking for students who love entertainment and love TCU to join us as we plan TCU's next Instagram moment.