Food is a big part of what we do here at TCU. Our on-campus dining options are designed to provide quick, healthy service to our students in an atmosphere that encourages eating and spending time together for our students and contributes to the strong sense of community on campus. Beyond TCU, however, Fort Worth has tons of great dining options for our students to enjoy. Below is more information about how and where to eat on campus along with some of our office's personal favorites!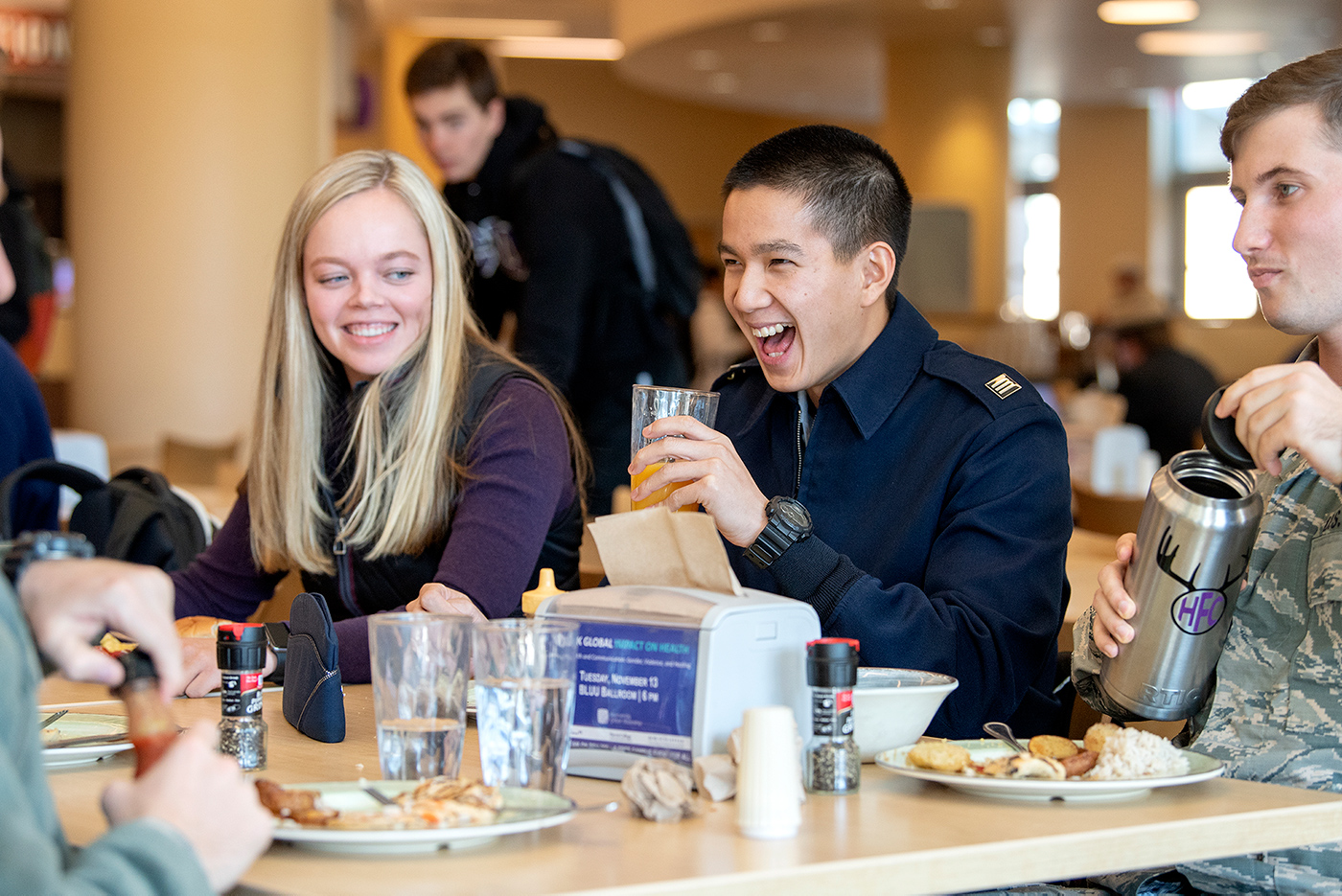 MEAL PLAN OPTIONS
Market Square Membership – $2,800 per semester
Unlimited swipes to Market Square
$400 Campus Cash
$200 Frog Bucks
Available to freshmen, sophomore, junior, seniors and off-campus/commuter students
Ultimate Flex – $2,800 per semester
17 swipes per week anywhere (Good for an entrée, side & beverage at all locations, including Chick-Fil-A)
$200 Campus Cash
$100 Frog Bucks
Available to freshmen, sophomore, junior, seniors and off-campus/commuter students
ON-CAMPUS DINING LOCATIONS
Brown Lupton University Union (The BLUU)
Market Square – The main dining hall where students eat most of the time. This includes a lot of different rotating options from the Cookhouse (home-cooked meals like barbecue, mac-and-cheese, pork roast, etc.), Shuffles (switches between things like tacos, pasta, stir fry, and ramen), and Mindful (healthier and locally-sourced meal options), as well as a constant salad bar, smoothie bar, pizza, burgers, and cereal. A Market Square favorite is the big Sunday brunch with Texas-shaped waffles and a chocolate fondue fountain.
Chick-Fil-A – Your swipe typically gets you an entrée with fries and a drink.
Union Grounds – A long time TCU staple serving Starbucks coffee with some convenient to-go options like sandwiches and wraps.
King Family Commons (Five restaurants all in one building in the Worth Hills Area)
Magnolias Zero 7 – Rotating menu where everything is allergen free. That means everything they prepare is free of soy, egg, gluten, shellfish, dairy, tree nut, and peanut. Always healthy and tasty even if you don't have food allergies.
O'Briens – Classic American fare with pancakes and breakfast sandwiches in the morning and burgers, chicken sandwiches and fries/onion rings for lunch and dinner. You can check out their menu here.
Caliente – Fresh Tex-Mex offering tacos, burritos, quesadillas, tacos salads, queso, chips and salsa, freshly made tortillas and more.
Happy and Healthy – Grilled cheese sandwiches are the specialty, with a ton of varieties like a chopped brisket grilled cheese and California (with avocado, alfalfa sprouts and turkey) as well as fresh salads.
University Recreation Center
Rollin' n Bowlin' – Open for breakfast and lunch, with healthy options like açaí bowls and smoothies. As well as an extensive café with cold brews and fancier coffees. TCU alum owned and operated.
Mary Couts Burnett Library
Bistro Burnett – Open early and late, Bistro Burnett is a sandwich shop that serves Starbucks coffee and a selection of grab and go snacks.
Smith Building at the Neeley School of Business
Bass Building (Harris School of Nursing and Health Sciences)
A La Carte – Similar to The Press or Union Grounds, this is a coffee and sandwiches to-go spot in the nursing building.
OFFICE FAVORITES AROUND FORT WORTH
Margaret Resk
My favorite restaurant is Woodshed Smokehouse, which is on the Trinity River near TCU's campus. The food is amazing, and there is a ton of (dog-friendly!) outdoor seating. They also have great live music almost every night.
Beatriz Gutierrez
Magnolia Avenue is a great area to stop for a meal. This "Near Southside" district is home to many of Fort Worth's best places to eat, listen to live music, and hang out with friends.
Sara Sorenson
Righteous Foods is a farm-to-table restaurant offering ingredients from local reputable and organic sources. From burgers, yucca fries, and pistachio guacamole to curried rice noodles, poke bowls, and vegan & gluten-friendly dishes, Righteous Foods offers a variety of fresh options to all of Funkytown.
Heath Einstein
I'm a huge fan of Mexican food, so my favorites depend on what I'm looking for at a particular moment in time. If I need a quick bite close to campus, I'll grab a burrito from Fuzzy's. If I'm looking for a fun evening with great atmosphere, you'll find me at Joe T. Garcia's in the Stockyards. But if I want the best Mexican I'll be at Mercado Juarez Café.
Joe T. Garcia's is a beautifully landscaped restaurant and a great option for anyone wanting some traditional Tex-Mex.
Caitlin Provost
It's hard to narrow it down to one! When I'm in town, I like to head out for Tex-Mex. Joe T's and La Familia are my favorites. The tacos at Fuzzy's are also tough to beat. I also eat at Lili's on Magnolia Avenue for a great burger.
David Stein
Cane Rosso features traditional Neopolitano pizza made the right way. Fresh dough, hand-pulled mozzarella, and an incredible sauce all cooked at 900 degrees in an imported Italian wood-fired oven. All of their pizza is great, but I recommend the classic margherita. Surely someone on this list has mentioned Heim Barbecue... for a true Fort Worth gem, every Tuesday Cane Rosso partners with their friends down the street to make a pizza topped with Heim Barbecue's famous burnt ends.
Jim Atwood
Kris and I like Olivella's on Camp Bowie. Great pizza and salads, friendly and efficient service, plus tables are almost always available.
Jill Countryman
Railhead BBQ: The chopped brisket is incredibly tender and the fresh cut fries are abundant. However, the real reason to go to Railhead is to get the to-go cup that proudly states "Life is too short to live in Dallas."
Jerri Chatman
Located a few miles northeast of TCU on Magnolia Ave is Heim BBQ, definitely one of the best places to enjoy some outstanding Texas BBQ. There may be a line out the door, but it's well worth the wait. The brisket and pulled pork are delicious, and the potato salad is incredible. And that's not all– for those who have a craving for something sweet, Melt Ice Cream shop is just a hop, skip and a jump down the sidewalk from Heim BBQ. They have a variety of flavors and some of the best ice cream in Ft. Worth.